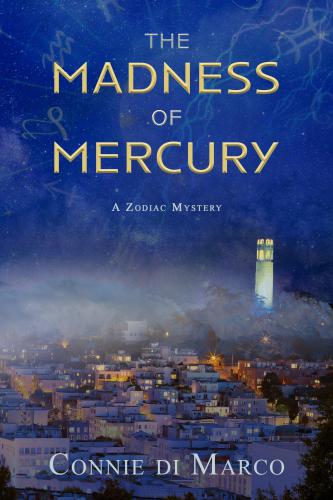 The Madness of Mercury
by Connie di Marco
Buy for
San Francisco astrologer Julia Bonatti never thought murder would be part of her practice.
FREE until Feb 9, 2023
This free book will be available:
We need an email address to send you a backup book download link.
Downloading this free ebook will add you to the author's mailing list. You are free to unsubscribe at any time.
Order Complete
Thank you for your order! A copy of the download links below have been sent to your PayPal email address.
Book Description
San Francisco astrologer Julia Bonatti's life is turned upside down when she becomes the target of the city's newest cult leader, Reverend Roy of the Prophet's Tabernacle. Driven out of her apartment in the midst of a disastrous Mercury retrograde period, she takes shelter with a client who's caring for two elderly aunts. One aunt appears stricken with dementia and the other has fallen under the spell of the Reverend Roy. To add to the confusion, a young man claiming to be a long-lost nephew arrives. The longer he stays, the more dangerous things become. Is the young man truly a member of the family? Can astrology confirm that? Julia's not sure, but one thing she does know is that Mercury wasn't merely the messenger of the gods -- he was a trickster and a liar as well.
Visit author website
Back to Books