Ronaldo is the top flying cadet at the prestigious Reindeer Flying Academy. He dreams of getting his flying license and becoming one of Santa's reindeer, just like his hero, Vixen." /> Ronaldo is the top flying cadet at the prestigious Reindeer Flying Academy. He dreams of getting his flying license and becoming one of Santa's reindeer, just like his hero, Vixen." /> Ronaldo is the top flying cadet at the prestigious Reindeer Flying Academy. He dreams of getting his flying license and becoming one of Santa's reindeer, just like his hero, Vixen.">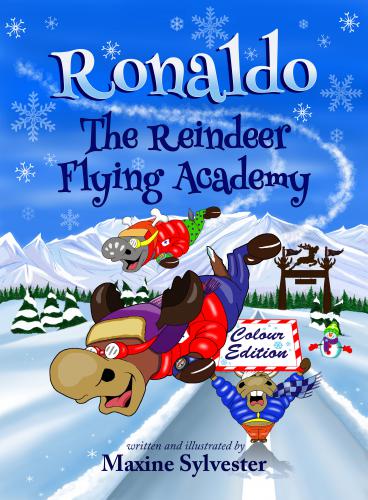 Ronaldo: The Reindeer Flying Academy
by Maxine Sylvester
Buy for
"MOVE OVER RUDOLPH - RONALDO IS HERE TO STAY!" Ronaldo is the top flying cadet at the prestigious Reindeer Flying Academy. He dreams of getting his flying license and becoming one of Santa's reindeer, just like his hero, Vixen.
FREE until Nov 1, 2019
This free book will be available:
We need an email address to send you a backup book download link.
Downloading this free ebook will add you to the author's mailing list. You are free to unsubscribe at any time.
Order Complete
Thank you for your order! A copy of the download links below have been sent to your PayPal email address.
Book Description
In the first adventure in the Ronaldo series, the second year flying cadets face their toughest ever flying test – The Endurance Challenge. Will Ronaldo be victorious and lift the silver cup? Or will mean brothers Dasher, Comet and Prancer ruin his chance for success?
"This should be a new Christmas classic!"

"I look forward to reading this book to my kids every year at Christmas. The story is incredibly entertaining and laugh out loud funny, even for parents!"

"This book has become a part of my family's holiday traditions!"
Visit author website
View on Amazon